FERRARI PRE-PURCHASE INSPECTION SPECIALISTS
GET A THOROUGH AND DETAILED LOOK INTO THE FERRARI YOU ARE PLANNING ON PURCHASING
Are you looking for that perfect pre-owned Ferrari? Well, lucky for you, a sound investment begins with the proper purchase. Ferrari of Long Island is your Ferrari pre-purchase inspection specialists. Our Ferrari factory certified technicians will put your future vehicle through a very rigorous multi-point inspection, analyze its running condition and diagnose any current noticeable issues. Upon completion you will receive a written report and pictures of the vehicle to keep for your records. This report also acts as detailed proof of purchase for out of town customers.
Timing Belts / Chains
Drive belts (alternator, power steering, water pump)
Clutch
Exhaust (Manifold / silencer / catalytic converter / etc.)
Brakes
Hydraulic pumps (e.g., F1, power steering)
Fluid change (e.g., engine oil, coolant, etc.)
Other (A/C, alternator, other high value components)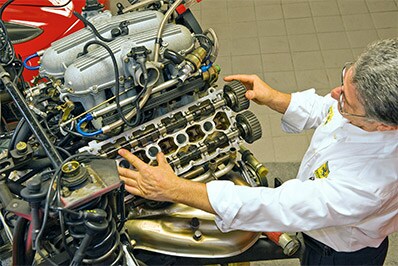 We are available to perform pre-purchase inspections for all exotic vehicles, simply contact our service department.