Must Love Ferrari: 3 of the Company's Rules for Potential Owners
In the decades since Ferrari produced its first car in 1947, the brand has built an enduring mythology about itself.
While Ferrari has become the stuff of legend, including the engine assembly plant at Ferrari's Maranello factory that's referred to as the "temple," Ferrari's culture has been built around the company's long commitment to creating a line of vehicles known around the world for their unmatched driving experience. Through limited production—Ferrari ships about 8,000 cars a year—the company has created boundaries on ownership and set prices in a range that keeps its circle of buyers small. To keep the brand exclusive, Ferrari also maintains a tight rein on its vehicles. Owners of new Ferraris sign a contract with the company and are subject to a set of Ferrari ownership rules. Here are three ways that Ferrari has ensured that its culture and cars stay true to the company brand.
Ferrari Ownership Rule #1: You can't completely change your Ferrari's look
Ferrari puts time and care into the appearance of each car, and to that end, the company does not believe that Ferrari owners should overly customize their car's appearance or change their vehicle's Ferrari badges. However, that has not stopped some customers from trying. Take Deadmau5, a celebrity DJ who covered his 458 Italia with a light blue wrap and large "Purrari" logo that featured a rainbow-colored, cartoon cat. After he entered the car in several rallies and took it out to meet celebrity friends for coffee, Ferrari North America sent Deadmau5 a cease and desist order to remove the custom emblems.
Ferrari tends to be less concerned with custom paint jobs that aren't outlandish than it is with owners who alter their car's Ferrari badges. However, this doesn't apply to the color pink. A Ferrari representative has told the press that pink is not consistent with the brand's "standards and ethos," and those who choose to paint their Ferrari rose, blush, or salmon might find themselves faced with a cease and desist order from Ferrari.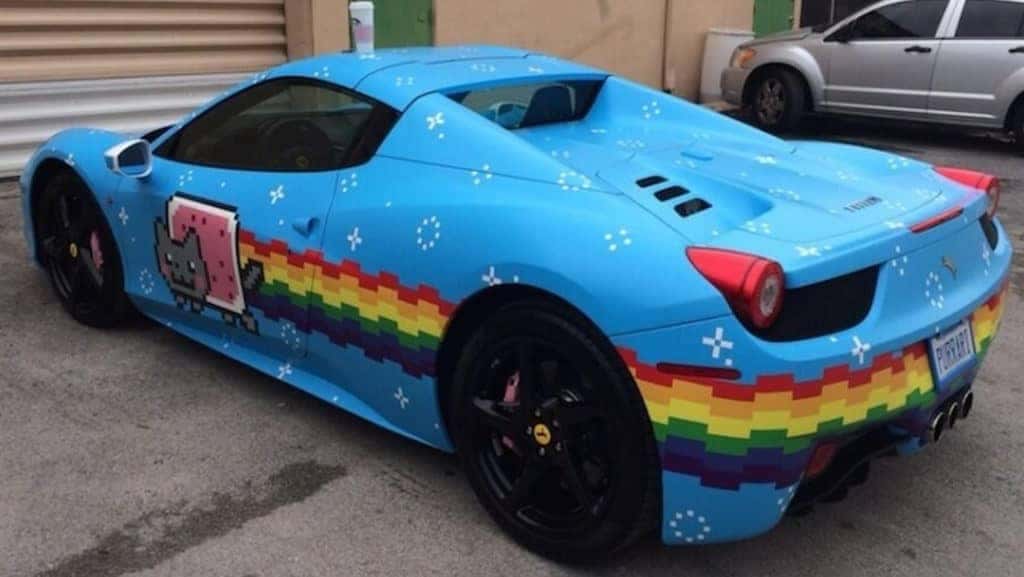 Ferrari Ownership Rule #2: Ferrari ownership comes with a rule book
Ferrari doesn't completely cut ties with owners when they leave with their new car. In fact, new US owners much sign a document saying they will not sell the car within the first year before they leave the dealership, according to Autoweek. This rule likely was instituted to keep people from flipping cars for a quick profit. As Ferrari sees it, each car is a significant investment on their part, and they don't want cars to disappear. Owners must contact Ferrari before selling their car, as the company might want to buy it from them. This system also allows Ferrari to keep track of all of their cars.
Ferrari employees also face strict rules about buying the cars they often help build. Ferrari gives the public priority on all its cars; the only exception is for Scuderia Ferrari F1 drivers, who don't get an employee discount. "The philosophy is that with such limited production and clients waiting so long to get their car, it's not nice if the car is delivered to employees," Ferrari executive Enrico Galliera has publicly stated.
Ferrari Ownership Rule #3: Ferrari sells to people who love their cars
It's not always easy to buy a new Ferrari, even if you can easily afford one. Many are limited editions, such as the LaFerrari (according to Wired, only 499 are in existence, and all were sold before the car was unveiled publicly). Potential owners apply to Ferrari to buy a new car, and those who are accepted join a worldwide community of people who are passionate about Ferraris and appreciate the exclusivity of ownership and beauty and workmanship of the cars. Potential owners may feel as if they are being put through a background check, as Ferrari could be interested in looking at their history of Ferrari ownership (if you've owned a Ferrari before, that will work in your favor although it doesn't necessarily mean you'll get approved for a new model).
Ferrari wants to make sure those who buy their cars will take proper care of them and become, in a sense, an ambassador for the brand. Take, for example, businessman Robert Herjavec, who bought one of the 499 LaFerrari supercars. In an interview with Wired in 2014, Herjavec talked about the emotional response he'd see from other people when he drove the car in Southern California. "It's the most beautiful thing ever created by human hands," Herjavec told Wired. "It's that beautiful to me. I've seen it a lot of times now that I've had it for a couple of weeks and my raw emotion is as visceral today as when I first saw it years ago."