RACING LIVERY, CARBON SOUL
Aerodynamic demands guided the work of the Ferrari Design Centre team. The 488 Pista's forms have been meticulously sculpted to ensure they are more performance-oriented than ever, with huge attention lavished ensuring that while aerodynamic demands were met, the Maranello marque's signature styling elements and aesthetic canons were respected.


SCULPTED SPORTY FORMS
IN SIGNATURE FERRARI STYLE
The designers used innovative elements, such as the aerodynamic S-Duct at the front, as an opportunity to visually shorten the car's nose, creating an original floating wing effect. The black, omega-shaped edging on the front bumpers and the side flicks reference the prominent aerodynamic underbody motif of the 488 GTE.
Most notable on the flanks is the fact that the splitter in the side air intakes of the 488 GTB has been removed. At the front, the aerodynamic profiles that start at the front bumpers run sleekly along the side miniskirts all the way to the side appendages of the rear diffuser.
The concept of the front is echoed in the dolphin-tail rear spoiler which appears suspended to provide an impression lightness and efficiency, while the rear volumes add a sense of power to the tail. The rear diffuser juts out and has been developed in width: its design was inspired by that of the 488 GTE.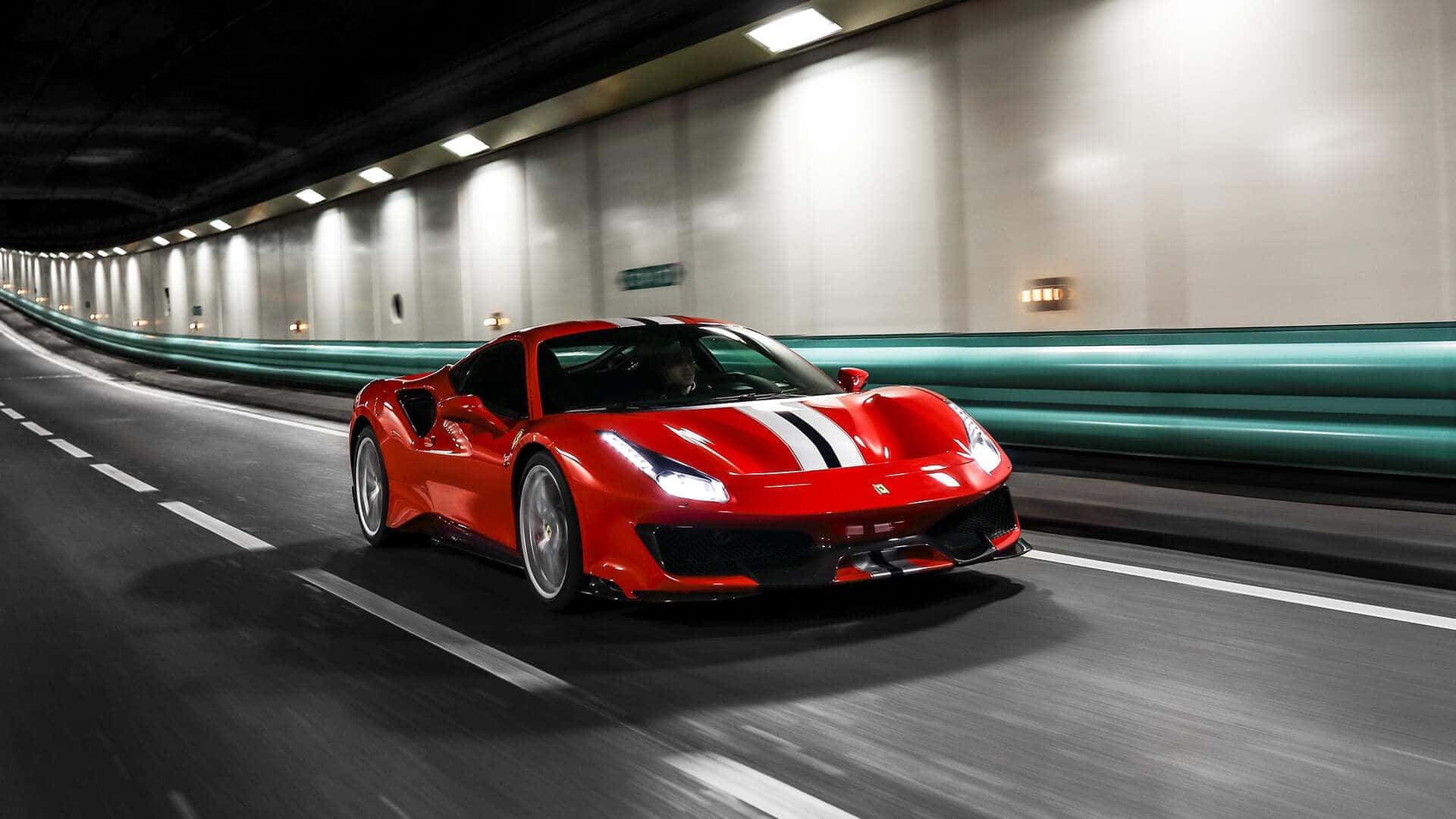 ULTRALIGHT
INTERIORS
The interior has a distinctive racing feel with all superfluous elements eliminated. The extensive use of lightweight, exclusive technical materials such as carbon-fibre and Alcantara works brilliantly with the meticulous crafting and sophistication that is the signature of all Ferrari cockpits. Contrasting hand-stitching, tread plates and heel rests in triangular pattern aluminium and particularly fluidly sculpted door panels are fine examples of this.
The glove compartment (normally incorporated into the dashboard directly in front of the passenger) has been removed and replaced by handy storage pockets on the rear bench and the doors. The effect is to significantly visually slim down the volume of the under-dash area.